Making the most of your subscription
Care Opinion is evolving all the time, as we learn more about what would be useful for patients, carers and health services.
So to help you keep up to date, we thought we'd list our newest, our least-known, or our favourite features - just for you!
Did you know you can...
Print stories out ready for display
Read stories in over 50 languages
See which stories were experienced by others
Put your picture on responses you sign personally
Tell people what you do
Show people who has read a story
Show people how many staff are listening
We'll be adding more to this list as we go along - we'll keep you informed!
Print stories for display
We've made it easier to print and display any story on Care Opinion.
You can print a story direct from your browser, and it will be formatted ready to display on a noticeboard.
If you want a bit more control, use your browser's "print preview" facility. This will allow you to:
magnify or reduce the story text
adjust the page margins
So you can print the story and responses just the way you need them!
Read stories in 53 different languages
We want as many people as possible to be able to use Care Opinion - including people whose first language is not English.
As a step towards this, we've added Google's automatic translations to the site.
You'll find a "select language" option at the top of every page (it may take a few seconds to arrive). Just select the language you need.
One disadvantage of Google's automatic translation is that it is sometimes not very accurate.
But, on the positive side, it is improving all the time - and new languages are added as Google's service develops too.
We apologise if your own language isn't yet listed there.
I've experienced this
Anyone reading a story can add their voice to Care Opinion by clicking "I've experienced this".
Next to each story, we'll show you the number of other people who've had a similar experience. In your reporting, we'll show you how many of these are at your own service.
As time goes by, this will give you a sense of which aspects of health services matter to the most people.
Give your responses a human face
One of the benefits of Care Opinion is that it allows health services to show that they really are listening to what patients and carers are saying.
But you can go further than giving your service a human voice - you can give it a human face as well.
You can upload a photo of yourself to your personal profile. Then, when you sign a response with your own name, we'll show the photo alongside your response.
Note that we won't show the photo if you sign with just your job title or your organisation.
How to upload a photo to your profile
Log in to Care Opinion.
Make sure you are in subscriber view (see top navigation bar).
Click your name to go to your profile page.
Click on Add or change your personal details.
Click on Add/change your picture.
Click on Choose a new picture.
Browse to the photo you want to use, and click Open.
Crop the photo to show the part you want and click [Use this picture].
And what do you do?
You know what your job is about - but is it obvious to patients, carers or service users?
When you respond on Care Opinion, we can show people how you fit into their health services, with a little pop-up over your name.
How to show "What I do" for your own responses
Log into Care Opinion
Make sure you are in subscriber view (see top navigation bar).
Click on your current subscription name (top navigation bar).
In the relevant subscription, click under "What I do" and enter a short description of what your job is about, then press Enter
If you are a member of more than one subscription, you can enter a different "What I do" description for each one.
Who heard this story?
When someone shares a story on Care Opinion, they want it to be heard by the right people in the health services.
Now we've made it easier to see who has actually read each story, in the Activity box next to each story on the site.
The Actvity box shows the number of health service staff who have read the story - and you can see which organisations these staff are from by clicking on the staff members link, like this:
Making sure we know you have heard this story
We will only know you have read a story if you are logged in when you visit the story page.
If you are not logged in, we won't know you are you!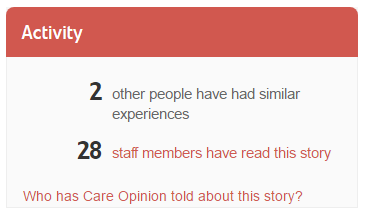 The easiest way is to stay logged in. If you tick "Remember me on this computer" when you log in, we'll keep you logged in for 30 days (unless you decide to log out) - so it is easy to stay logged in.
Is anyone there?
When people give you feedback, they want to know that someone is going to hear it.
That's why we're now showing how many staff are listening at each health service provider. Here's an example: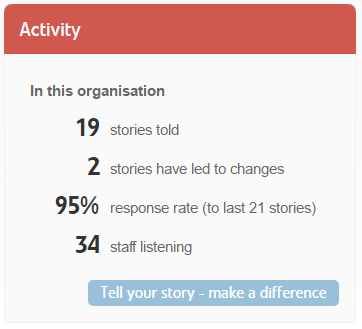 The more staff who are hearing feedback from your patients, service users and carers, the more chance there is that the feedback can lead to learning and service improvement.
Adding new members to your subscription is easy - there's no reason not to do it. So do think broadly about who you can involve, and how they can make use of the feedback they receive.