Sharing Care Opinion with staff
Share with staff
It's really important to share Care Opinion with staff working in your organisation as these are the people working on the front line with the people accessing your service. We have lots of helpful resources, hints & tips to help you spread the word and train staff up to to be enthusiastic about asking for online feedback.
Here are some resources you can use:
Staff PowerPoint Presentation - A Startup guide
Checklist for Manager/Operational Leads
These are the key actions to support the implementation of Care Opinion within your service. Don't forget that you can always seek advice from the Care Opinion subscriber support team who can help with a range of resources and tools for you and your service.
Get staff involved
Train your staff and volunteers on what Care Opinion is, give them the tools to ask for feedback about services and more importantly let staff hear what feedback is being told about the services they work - there is nothing more powerful than receiving positive feedback yourself for the job you do. This can be so inspiring and can encourage staff to ask for more feedback.
'CO Hero' staff recognition certificate
Many storytellers like to name staff members who have had a positive impact on their healthcare experience. Patient Opinion's moderating policy allows staff members to be named (by first name only) where the interaction is positive.
When a story names a staff member in a positive light, Care Opinion will add a tag called 'CO Hero' to that story so that the service can generate a tag search and identify stories that highlight staff. Care Opinion has developed a Staff Recognition certificate that services can pre-fill with the staff's full name and comments from the storyteller, to be given to that staff member directly. Here is a visual of the template: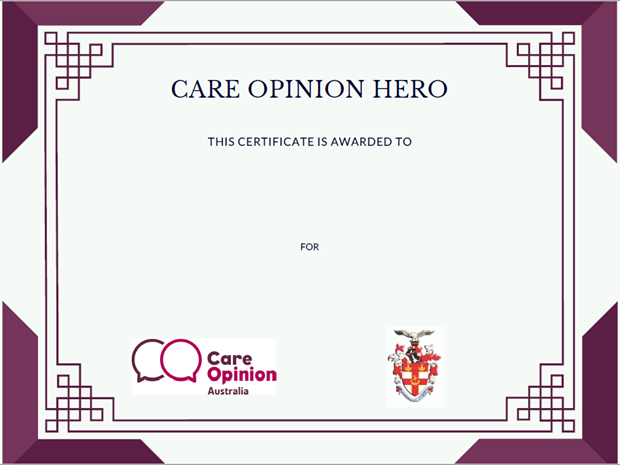 From there, if that staff member is given 'responding' access via Care Opinion, they can then respond to the author directly on the site, demonstrating the service's willingness to engage publicly with consumers and involving the frontline staff in the process of feedback, through online dialogue.
Please contact the Care Opinion team to obtain a co-branded copy of the certificate.
More Resources
For more resources such as print materials and logos to help you promote Care Opinion click the link below:
Last updated 11/02/2021