PATIENT EXPERIENCE IS A JOURNEY
In 2012 the platform had a strong focus on the consumer voice, as evident in the early days of moderating. We explored how these stories look in comparison with the stories published today and it gave great insight into how the platform has grown over these years and how the patient experience is a journey. We found the consumer voice powerful, and the message about the role non-clinical staff have on the patient experience as a unique strength of what Care Opinion offers the community.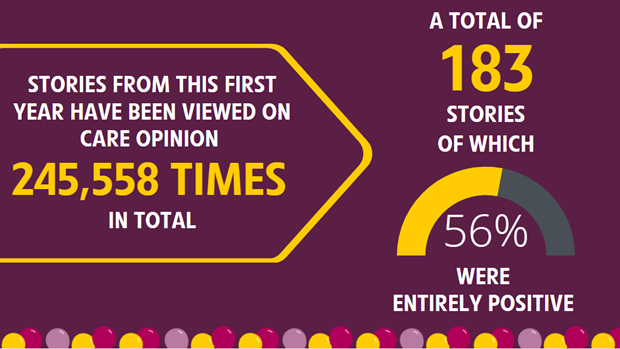 The first story was published on 22 February 2012, the date we recognise as our anniversary. You can read it here: Ongoing back and neck pain. While this story doesn't have a response, we found the consumer voice and message in this story incredibly interesting.
Captured below is some insightful data from the stories told in the 1st year of Patient Opinion Australia (from 22 February 2012 to 21 February 2013). Our reporting function allows us to generate a number of graphs as well as visualisations, such as tag bubbles, which compile data from stories such as dates, tags used and information supplied by the authors. Identifying information is never shared or used to generate these reports.
When these stories were told:
This gives an overview of when stories were told throughout the year. Across the year it has been interesting to observe peaks. We may attribute these to services launching the platform and promotional campaigns.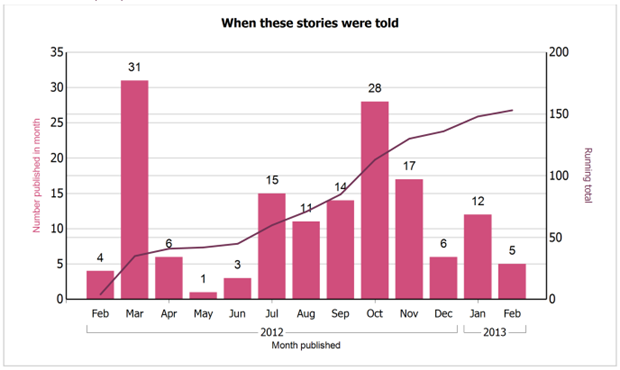 How the authors of these stories identify themselves:
During the storytelling process the storyteller will select their role in relation to the experience of care, this is what we describe as 'how the author of the story has identified'. This helps provide context to the story and allows the moderating team to identify how to speak to the author should contact be made. Here we may see fluctuations when services, particularly aged care, join and storytelling is picked up by family and/or carers. In future years we also saw the addition of other storytellers added to the mix such as; a friend, a parent/guardian, a staff member posting for a carer/relative, and a staff member posting for a patient/service user.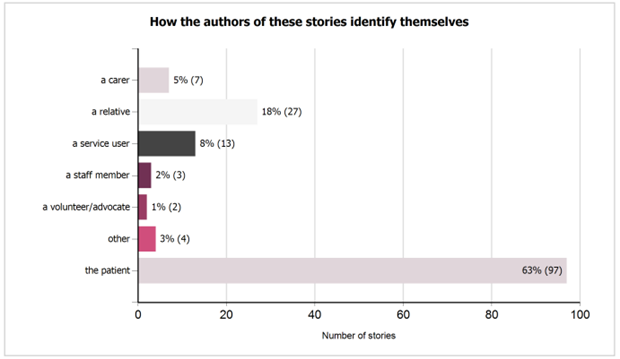 Tag bubbles:
Tag bubbles are one of our fun, interactive visualisations that can be generated based on story tags. The image below shows the tags used in the first year and represented as bubbles showing the percentage of positive (green - what was good) and negative (red - what could be improved) uses of the tags.