THE DIALOGUE BEGINS!
In 2015 a whopping 299 out of 498 stories were entirely positive! The lengths our team, and the staff we work with, go to make sure that morale-boosting feedback goes straight to the staff who diligently serve our communities.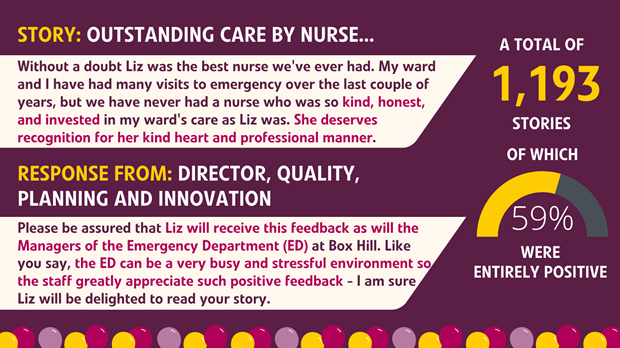 The story 'Outstanding care by nurse at Box Hill Emergency Department' is a great example of how the power of storytelling as a form of patient feedback gives a more holistic view of how the interactions between staff and patient/consumer make a difference.
1,000 Stories Milestone
On 26th October 2015 the Care (Patient) Opinion Australia team posted the 1,000th story! This was an important milestone for the organisation, and the start of a huge acceleration in stories.
New Subscribers!
WA Country Health Service (WACHS) regions Great Southern Health, Kimberley Country Health Service and Midwest Health subscribed to Care (Patient) Opinion Australia as part of the trial program in Western Australia. At the conclusion of the trial, Care (Patient) Opinion was expanded to the remaining WACHS regions - the Pilbara, Wheatbelt, South West and Goldfields. Let's explore the first three pioneer sites!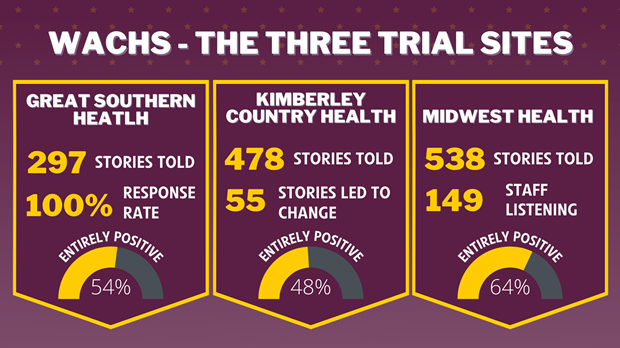 By January 2022, WACHS reached a milestone of 3,000 stories told on Care Opinion. We tracked this across a number of social media posts, exploring the data and stories from each region. You can view the social media posts on our Twitter, Facebook and Instagram pages.