A NEW LOOK!
Since 2012, we had been operating under two brands; Patient Opinion for hospitals and health services, and Care Opinion for aged and social care services.
Following in the footsteps of our parent company in the UK, and with most countries moving towards an integration of health and social care, we merged the two brands into a single integrated and simplified service by 2020. The merge also saw a refreshed colour palette, logo and promotional materials featuring new quotes that had been taken from the stories published on the platform.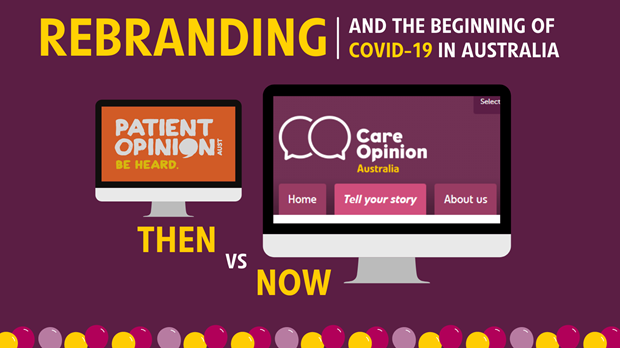 The transition to the single brand was remarkably smooth, attributable to the site's functionalities remaining unchanged and extensive communications with our subscribing services.
The time also marked the beginning of COVID-19 in Australia. During those first two months of the virus reaching Australian shores, the national focus was on reducing misinformation and reducing widespread panic about the virus.
It was decided that Care Opinion would not publish stories relating to the COVID-19 virus to enable services to direct their focus on making the necessary adjustments to their infection control processes and safe service delivery at the time.
Within that two month period, it became apparent that the virus could not be eradicated quickly and that stories could give subscribing services insight into how COVID-19 was impacting their service delivery.
Stories about the pandemic were published and now, 745 stories related to COVID-19 have been told on the platform, 68 of which have resulted in a change being planned or made.
Other methods of storytelling
Care (Patient) Opinion exists so that patients, consumers and their families/relatives can share their experiences of health and community care directly through the website. Understandably, not everyone will have internet access and so we began to see an uptake in the use of other methods of storytelling.
Despite the website being the most popular avenue for storytelling, the use of the handwritten leaflets and sharing stories over the phone were still being utilised by a small number of consumers, through promotions by subscribing health services.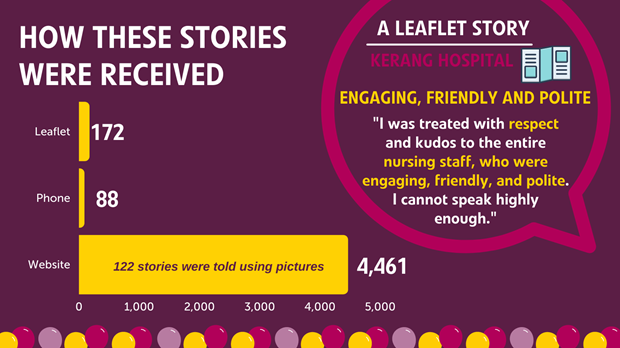 Today, QR codes are growing in popularity as an easy way for consumers to share their stories. This, along with the leaflet and phone methods are still being promoted through the Care Opinion promotional materials. We took the opportunity of the re-brand to expand our line of promotional materials, with a new A4 pull-up banner and stickers with QR codes that are perfect for discharge papers and invoices. Captured below are a few samples of the current promotional materials that are available to order: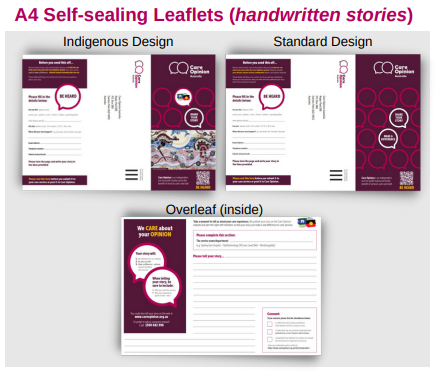 If you are a subscribing service and wish to order these materials, please contact us so we can provide you with an order form.