VIRTUAL CONFERENCE: HUMANISING CARE
In 2021 the Care Opinion Australia team joined up with national and international presenters for the first-ever Care Opinion Australia conference! The team also celebrated an impressive milestone, 10,000 stories! The conference theme, 'Humanising Care', drew out countless interesting points of discussion. Assoc. Prof. Michael Greco, CEO of Care Opinion Australia, noted in his opening address that traditional feedback mechanisms like patient experience measures only gives us half the story.
"While such data is very good, it doesn't necessarily demonstrate the humanity of his organisation. To do that, you need to show the wider community that you are listening to their voice, responding to their stories, and improving safety and quality in a visible or transparent way."- Michael Greco
Read on to hear our other conference highlights!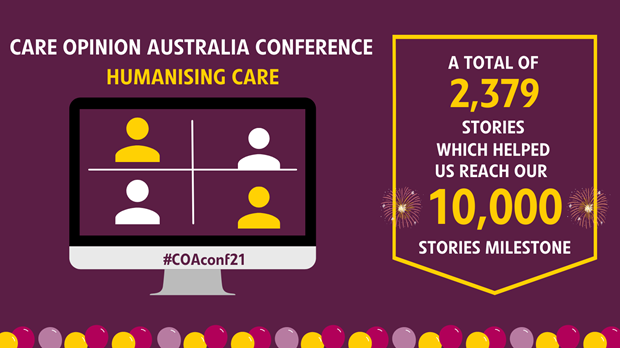 Snippets of wisdom
You will find below a few quotes by each of our wonderful speakers from the virtual conference. Each quote is linked to video snippet of their session or you can view the conference showcase. If reading is more your style, check out our post-conference blog for a wrap up of the main points.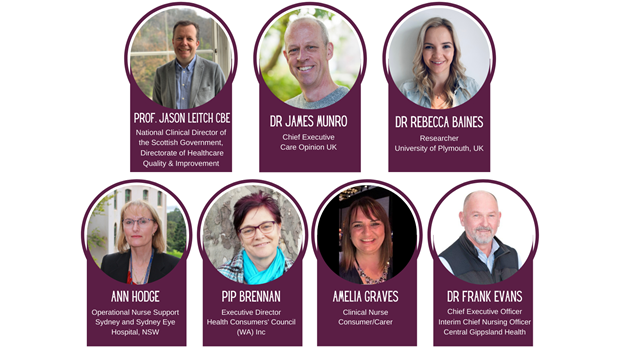 "It's the most important thing we've ever done for person-centred care. And I think that's true, I genuinely think that and I would defend it today." - Prof. Jason Leitch CBE
"It is possible to build something which patients and families really like, as a form of feedback and really value because they feel equal and respected and able to engage in a way that's not onerous or politically threatening. And yet, staff really like it too. And I think that's been the surprise that it is possible to build something that everybody can get something out of." - Dr James Munro
"Recent implementation evaluation that we conducted of Care Opinion specifically identified 24 benefits, which was fantastic." - Dr Rebecca Baines
"It's a great platform to acknowledge staff broadly... I think it builds a culture around accepting patient feedback, even asking for it and not hiding away from patient feedback and it gives a purpose to the person-centred care." - Ann Hodge
"To me, it's an absolute and utter game changer.... Transparency is a really important tool for change, and that is what Care Opinion offers." - Pip Brennan
"Care Opinion was a safe, easy to use platform that gave me the opportunity as a carer and a parent to voice my concern, and bring about change"- Amelia Graves
"I've been working in health management for three decades, Patient Opinion, has been the most powerful heart of the equation in terms of moving from wanting to defend ourselves around what people are telling us, to genuinely starting to listen, and acknowledge and do something about it in terms of what it means for individuals and what their experiences say." - Frank Evans
10,000 stories milestone
The 10,000 stories milestone was a significant milestone in the Care Opinion Australia history books.
One of our favourite statistics that emerged from this milestone showcased the rapid increase in stories! Since the first story was told on 22 February 2012, we published our 5,000th story almost to the date in 2018, exactly seven years on. In just two years and three months from then (26 February 2019 to 21 May 2021), we celebrated the publication of another 5,000 stories.
10,000 stories was not just a record achievement for the Care Opinion Australia team, but also for the many loyal subscribing services and storytellers that drive these stories.
New subscribers!
Swan Hill District Health - In September 2021, Swan Hill District Health signed up to join Care Opinion Australia. The team at Swan Hill hit the ground running with the implementation of the platform, creating the opportunity for feedback to make its way to those who need to hear it most, and opening a window to dialogical feedback.
VIC Small Rural Health Services Project -The Care Opinion Australia team partnered with the Victorian Agency for Health (VAHI) and Central Gippsland Health (CGH) for a 12-month project which formally commenced on 01 October 2021. The project extends across up to 38 small rural health services in Victoria, 28 of which are currently participating.
The Ladybug house - The Ladybug House is a family run business operating in Victoria and Queensland that joined Care Opinion Australia in the second half of 2021. It has been a slow uptake, but we are hopeful that as we continue to work with them, their service users will bring in some stellar feedback about their community service.