STORIES IMPACTING CHANGE
The more stories being told, the more engagement on the platform from health services with a willingness to respond to storytellers. In 2014, the rate of responses increased by 16% from the previous year, along with welcoming new subscribers!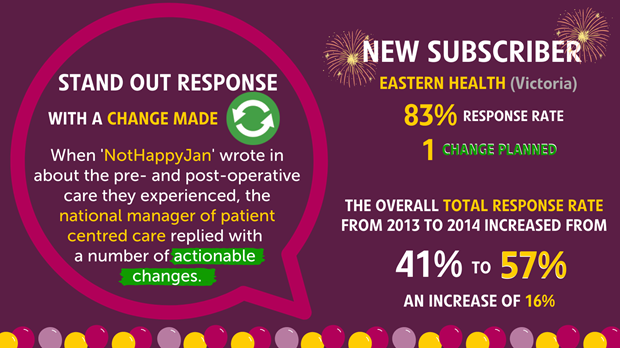 Stand Out Response
After 'NotHappyJan' wrote about their experience before and after surgery in 2014, and received an exemplary response from the National Manager of Patient Centred Care at Healthscope.
NotHappyJan's story, 'A partially thawed sandwich was all I was given after surgery at Nepean Private Hospital', led to changes in staff training, and the fridges and food storage methods at the service. The well-formed response was marked as helpful by NotHappyJan and two others – this is what we love to see!
New Subscriber!
In late 2014, Eastern Health in Victoria signed their agreement to Care (Patient) Opinion. The health service was committed to engaging with their patients, carers, and families back in 2013, before they officially subscribed to the platform. Former CEO, Allan Lily wrote in a blog that was published on his behalf on Care Opinion, that...
"I pride myself on knowing our organisation and what we do but I can honestly say that using Patient (Care) Opinion has been a reminder that I can't possibly know everything that I don't know!"
Eastern Health's first story in 2013 resulted in a change planned. Today, they have a 100% response rate, and are a part of a leading group of subscribers when it comes to engagement conversations. It has been wonderful to watch Eastern Health grow and embrace consumer feedback.