STATE-WIDE ADOPTION IN WESTERN AUSTRALIA
This was the most significant and exciting year for Care (Patient) Opinion yet, as the Western Australia government announced the mandate of the platform across all public health services in the state. The election promise came after the success of the trial in the year 2015 within three of the regions in WA Country Health Services (WACHS).

Four years on, as we celebrate 10 years of the platform, there is still a strong level of engagement with not only the subscribing Health Service Providers (HSPs) in Western Australia, but we are also working in collaboration with the state's Department of Health who have developed a Dashboard to showcase the progress of each HSP. The visual below captures the Dashboard information as of the 4th quarter in 2021, based on stories shared through the platform: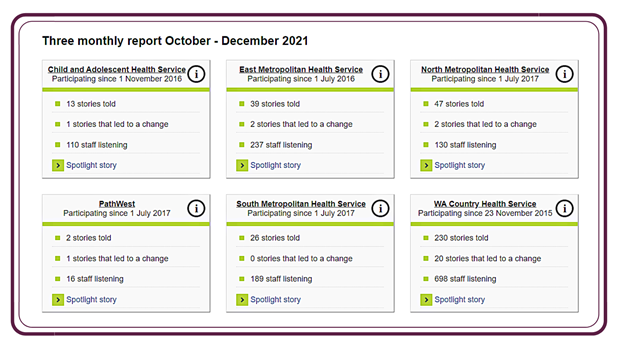 Click here to view the latest quarterly Dashboard update and the most recent published summary infographics.
On-the-ground Support by Health Consumers' Council
As we reflect on this remarkable achievement in 2018, it became apparent that the state-wide adoption would not have been possible without the Health Consumers Council (HCC) in WA and the support from their CEO, Pip Brennan. Pip is a long-time advocate of Care (Patient) Opinion and has, without a doubt, contributed to the success of the platform's roll-out within WA. From ongoing discussions at the organisation and government level to promotions within consumer groups, the involvement of the WA HCC has not gone unnoticed! In fact, they have dedicated a webpage on their website which you can view here, specifically to Care Opinion. There you will also find a must-see video interview of a consumer/storyteller on their experience of using the platform to share their story and effective and easy it is to navigate.
New Subscribers!
With all public health services in Western Australia now subscribed to the platform, the following subscribers under the 'Public Private Partnership' (PPP) umbrella also engaged with Care (Patient) Opinion that same year, as well as WA's state-wide Pathology service:
Joondalup Health Campus (part of Ramsay Health Care)
PathWest Laboratory Medicine WA