HALF-WAY MARK!
By the end of 2016, Care (Patient) Opinion began to gain traction across the country with stories coming in from every state.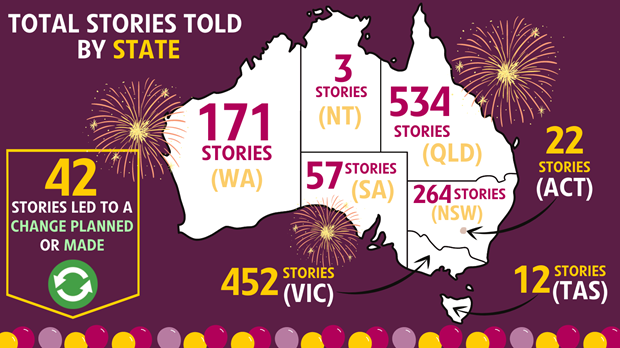 A profound beginning
One of the most profound stories and response chains to have come through the Care (Patient) Opinion platform was the first story told about Central Gippsland Health Service. The story, 'Need for better communication when a family member is dying' on Care Opinion, is a raw and powerful story about the lack of compassion and communication to a family in distress.
Central Gippsland Health Service, at this time, was not aware of Care (Patient) Opinion, and was informed by the CEO of another health service about this story*. This allowed for internal investigation and changes to be made in communication with the author. The CEO of Central Gippsland Health Service also read and distributed copies of the book 'Dying For a Chat' about educating staff on compassion and conversation, at the recommendation of the story author. By partnering with this consumer, Central Gippsland Health Service was able to demonstrate the ability to respond to difficult stories and collaborate with consumers to improve service delivery.
*Note: At this time non-subscribing organisations were not notified of stories about their service. Today, the moderation process includes notifying non-subscribing services whenever a new story is received.
New subscribers!
Central Gippsland Health Service - As a result of our collaboration on their very first story outlined above, Central Gippsland Health Service became subscribers of Care (Patient) Opinion Australia a few months later. Fast forward to 2022, they are still on the journey with us and have joined forces in a pilot project to engage the Victorian Small Rural Health Services.
South Eastern Sydney Local Health District - South Eastern Sydney LHD Care (Patient) Opinion Australia subscription comprises five services within the Local Health District; Sydney/Sydney Eye Hospital, St George Hospital, Prince of Wales Hospital, Sutherland Hospital, and the Royal Hospital for Women. Collectively, they have recently reached a milestone of 1,000 stories!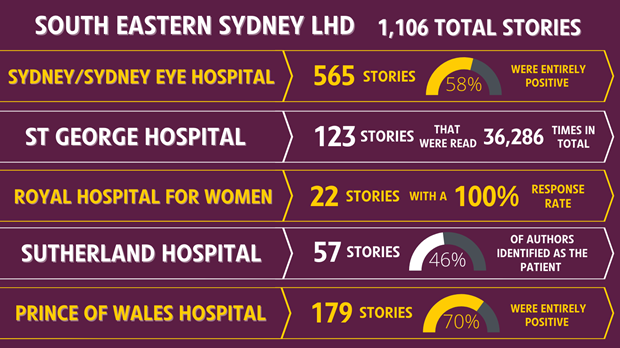 Lives Lived Well - Operating nationwide in Queensland and parts of regional New South Wales, Lives Lived Well is a not-for-profit organisation that exists to help and support people that are impacted by drug and alcohol as well as mental health concerns. Since 2016, they have continued to embrace online feedback with 90% of their stories being entirely positive testimonies of life-changing recovery, hope and new beginnings for their clients. CEO, Mitchell Giles shared a noteworthy blog on Care Opinion about how Stories are more memorable than stats with an outstanding statement of:
"Your stories will help us adjust our thinking, and ask ourselves whether the way we've done things in the past is still the right way for the future."
Child and Adolescent Health Service (CAHS) - Creating an avenue for the most vulnerable consumers voices, children and young people, the Child and Adolescent Health Service in WA subscribed in 2016. As shown in the graph below, 77% of the authors of stories told about CAHS are parents/guardians. Over these past few years the Care Opinion platform has facilitated many valuable conversations between these parents and/or guardians, as well as patients and service users, with a 100% response rate.