A FOCUS ON STAFF MORALE AND AGED CARE
Care (Patient) Opinion Heroes
In 2019, Care (Patient) Opinion started to address the common misperception that feedback, and storytelling, is just another avenue for consumers to submit complaints. We know this is only half the story and wanted to support subscribing services to harness the power of positive feedback on staff morale.
The 'Care (Patient) Opinion Hero' tag, shortened to 'CO Hero' was created and added to stories where a staff member was named in a positive context. Services could then perform a search on the Care Opinion platform and read/report on all stories with this tag under their subscription, enabling them to quickly and accurately identify staff whose caring and compassionate care left an impression on storytellers.
In addition, a co-branded 'CO Hero' certificate was created that services could tailor for each staff member named in stories. The goal was to enable services to use Care (Patient) Opinion to boost staff morale by acknowledging staff members' patient-centred care.
Many subscribing services are now engaged with the 'Hero' concept and are actively using the certificate, presenting them in staff meetings, mentioning these staff in newsletters and posting them up on communication boards. Here is an example of a 'CO Hero' certificate being awarded to a Social Worker at Sydney/Sydney Eye Hospital, based on a story told by a consumer. Read the full story via this link: Unsung heroes in the social work department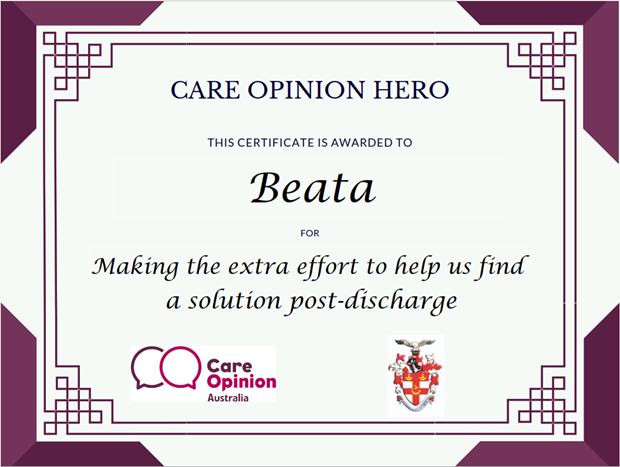 To date, the 'Hero' tag has been added to 6,977 which have been viewed more than 4 million times in total.
5,000th stories milestone
Eight years to the month (February) from when the first story was told, we celebrated 5,000 stories told on the platform in 2018. The report shows that 56% of these stories were entirely compliments, and 5% resulted in changes planned and/or made. The 'Tag Bubbles' below captures the most commonly used tags amongst the 5,000 stories, according to what storytellers felt were good and what could be improved: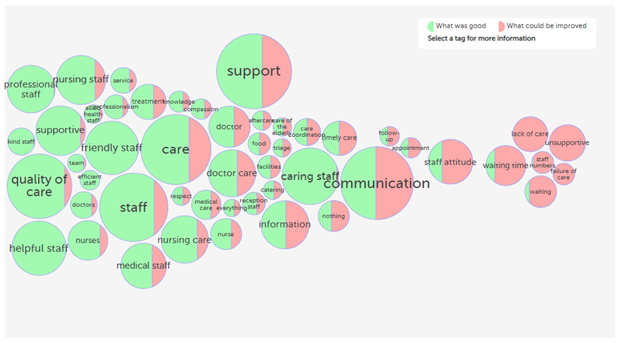 The bigger the tag bubble, the more count of stories with that tag.
The Aged Care Journey (so far)
In November 2019, the Interim Report by the Royal Commission into Aged Care Quality and Safety was released, stating that the aged care system in Australia "does not deliver uniformly safe and quality care, is unkind and uncaring towards older people and, in too many cases, neglects them".
The damning report identified many systematic problems in aged care and revealed a system that, among many other characteristics, minimises the voices of people receiving care and their loved ones.
Listening to the experiences of people receiving care is as important for identifying the need for systems to improve, as it is for identifying what is working well and where staff are providing exceptional care.
Care (Patient) Opinion was created for this very purpose, to amplify the consumer voice and support service providers to engage in transparent, constructive and safe conversations with their service users.
We published many heart-warming stories of the care received and relationships developed between staff and residents and their families.
Here are some examples of stories published:

Despite the slow uptake of the feedback platform amongst aged care providers since 2019, Care (Patient) Opinion continues to work with the Australian Government to develop an approach for the sector to increase service engagement with aged care residents and their families.
New Subscriber!
2019 saw the conclusion of the Care (Patient) Opinion pilot program with Safer Care Victoria. One health service participating in the pilot, Kerang District Health, was an outstanding example of a small, rural health service's willingness to engage with consumers transparently and relationally.
Kerang's participation in the pilot resulted in staff being made aware that their dedication and care was recognised and valued by the community, consequently improving staff morale. This also benefited the organisation, as members of the public were able to read about the high-quality care Kerang provides, and the efforts extended to improve that quality on a continual basis.
The experience proved to be of significant value to Kerang District Health as they continued to subscribe with Care Opinion Australia beyond the pilot's conclusion. Read more about Kerang District Health's experience in our blog.